For many reasons, some of the pages on website become invalid, outdated, or obsolete. However, those pages might have good rankings and flow of visitors. If you delete that page, the users will get the 404 page not found error.
This is frustrating to users, and the page rankings will also get lost forever. Therefore, deletion of old pages will dent your SEO efforts and user experiences quite significantly.
What's the solution?
Under the circumstance, redirecting of old pages is the best solution. It is a process, where invalid webpages get rerouted to a relevant page containing updated information that the users came in search for. The next concern is how to redirect your WordPress pages or blog, if you don't have any programming skills. Fortunately, you can use the redirect WordPress plugin that is specifically designed to perform this task.
How to redirect WP pages and posts properly?
For a WP website, the redirect plugin is a great tool. The 301 and 302 are the most common status codes used for redirects. The 301 represents permanent redirects, which means when you have changed the pages, or domain, or posts, for good.
The 302 is applied for temporary reroutes to another related page, while some repairs or updates are implemented. You can also use it for coming soon WordPress pages, in order to redirect the users to temporary pages. You will not have to shut down the whole website for maintenance.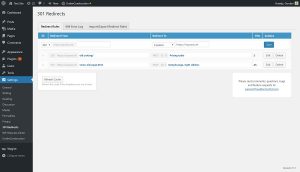 301 redirect WP plugin review
Now you got an idea of how to use the 301 and 302 codes properly, it is the time you know how to manage both. Just install the user friendly 301 redirect WP plugin from for free.
Identify the URLs generating 404 error codes, and reroute them to relevant content. It can be done easily using the drop-down menu, and by choosing a new page. Once the URL of the old page gets changed, the plugin automatically reroutes visitors to a new address. The horrible 404 error page will not be seen again, as soon as the redirects get active.
The other thing the 301 WP redirect plugin tool performs is valuable in terms of SEO. It is capable of enhancing the volume of traffic on your new pages. The search engine bots will not reach the horrible 404 errors, and they will move on to the new page. The redirect will automatically send the visitors to the real page. Your SEO ranking gets an immense boost with this exclusive feature WP 301 redirect plugin offers.
The redirect WP plugin even offers charts, which helps to analyze your traffic, and fine-tune your SEO strategies.
You may be concerned if the plugin can cause any unwanted issues. Will this plugin slow down your website speed? Will there be any security issues for your website or visitors?
Well, 301 redirect WP plugin allows you to detect any configuration issues and you can rectify them with just a few clicks. If you own a WordPress website, you must surely install this useful plugin. We rate it with 4.5 stars out of 5.